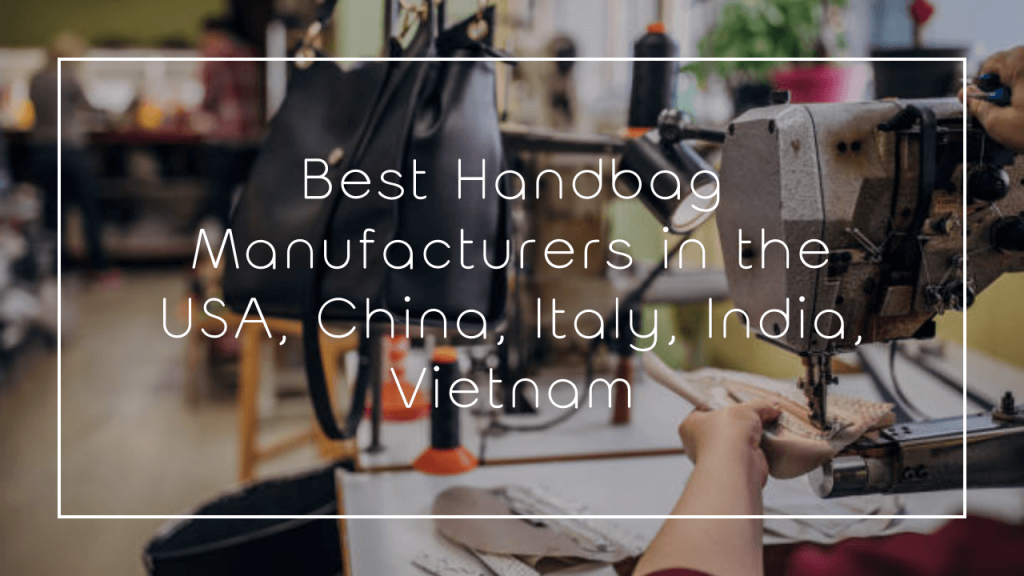 Top Six Handbag Manufacturers You Need to Know in the USA
---
1. LBU Inc.: The Diverse Bag Expert
Located in the heart of New York, LBU Inc. showcases its expertise in crafting a variety of handbags. Their collection ranges from everyday tote bags to trendy fanny bags and spacious duffle bags. Their material selection stands out, offering choices like canvas, vegan leather, and durable polyester.
Customization: Particularly proficient in tailoring canvas totes to individual needs.
Ordering Details: With a minimum order quantity (MOQ) set at 100 units, they cater well to budding businesses. The production lead time is a swift 2-3 weeks.
2. GFG Bag Manufacturer: Elegance Meets Functionality
GFG Bag Manufacturer marries style with practicality, focusing on various women's handbag designs. They have a firm footing with an office in the USA and multiple production units in China.
Design Flexibility: They either assist in design formulation or bring your unique design visions to life.
Ordering Insights: Depending on the material choice, their MOQ ranges between 100 to 1000 pieces. The lead-time averages between 4 to 8 weeks, influenced by design intricacy and order size.
3. Clutch Made: The NYC Clutch Specialist
With a strong presence in NYC, Clutch Made is synonymous with chic clutch bags and classy lady totes.
Additional Services: They stand out with their private label offerings and design consultancy services.
Order Nuances: Their MOQ is flexible, catering to orders as small as 10 units and scaling up to 10,000 units. It's best to reach out directly for specific details.
4. The Custom Bag Company: Crafting Unique Bag Visions
Operating out of North America, The Custom Bag Company is renowned for manufacturing distinctive bags. From duffle bags and pouches to backpacks, they cover it all.
Material Choices: Their palette includes nylon, polyester, and the classic genuine leather.
Business Insights: Small handbag enterprises can benefit from their MOQ set at a manageable 100 pieces and a production timeline of 4-6 weeks.
5. Portchester USA: The Leather Aficionado
Based in New York, Portchester USA puts leather at the forefront of their creations. They have expertise in crafting high-quality leather handbags.
Holistic Assistance: They go beyond manufacturing, aiding in sourcing various hardware and accessory components.
Production Specifics: To gain clarity on MOQ and production timelines, it's recommended to touch base directly.
6. Giggle Handbag: LA's Handbag Gem
Nestled in Los Angeles, CA, Giggle Handbag takes pride in crafting women's handbags from both leather and fabric materials.
Comprehensive Services: They extend their craftsmanship to creating leather accessories and also provide design services for a tailored experience.
Spotlight on Top Chinese Handbag Manufacturers
---
1. The One Packing Solution: Customized Elegance
Emerging as a luminary in custom bag solutions, The One offers an expansive catalog encompassing leather, canvas, and nylon creations, including clutches, wallets, and handbags. With a global presence spanning North America, Europe, and Australia, The One stands as a trusted ally for premium promotional items.
Personalization: OEM & ODM services, accommodating branding, logo, and style customizations.
Order Details: A modest MOQ of 500, ensuring businesses can seamlessly integrate bespoke offerings.
2. Rays Jade: Guangzhou's Leather Marvel
Rays Jade, nestled in Guangzhou, crafts a vast array of leather-centric products. Their offerings also encompass canvas and nylon bags.
Custom Services: From branding to style design, their OEM & ODM services cover it all.
Order Particulars: They maintain an MOQ of 100 pieces.
3. Luisway: Shanghai's Handbag Prodigy
A trailblazer based in Shanghai, Luisway majorly exports its handbag wonders to destinations like the USA, Europe, and Japan.
Certifications: Their factory boasts the IS09001 seal of approval.
Tailored Solutions: They excel in logo imprinting and material customization.
Order Insights: Custom handbag orders have an MOQ of 500 with a lead time of roughly 20 days.
4. Twin Oaks: Tote Bag Specialists
With operations spanning Shanghai and Heibei, Twin Oaks focuses on crafting tote bags using diverse materials like canvas, leather, and PVC.
Lead Time: Generally, the timeline from order placement to delivery spans 40 days or less.
Further Details: Direct communication is recommended for nuanced specifics like MOQ.
5. J.D. Handbag Factory: Leather Afficionados
Operating from three prime locations, Shandong, Dongguan, and Cambodia, J.D. Handbag Factory is a powerhouse in leather handbag manufacturing.
Portfolio: Their range includes tote bags, shoulder bags, clutches, and more.
Custom Services: They cater to individual demands through their ODM and OEM services.
6. SLBAG: The Guangzhou Bag Maven
SLBAG, operating from Guangzhou, offers an extensive range including wallets, lady purses, and handbags.
Personalization: They provide custom design services, including logo additions.
Order Details: Custom bag orders have an MOQ of 500, whereas leather handbag orders start at 100 pieces.
Discovering Italy's Premium Handbag Craftsmanship: Top 4 Manufacturers
---
1. Bellini: Florence's Leather Luminary
Stationed in the captivating city of Florence, Bellini has etched its name as a prodigious leather handbag artisan.
In-Stock Orders: Bellini offers no minimum quantity for ready-to-purchase handbags, whether unbranded or bearing the Bellini emblem.
Custom Manufacturing: For those keen on unique creations, the MOQ is set at 10 pieces per style and color, with a total of 50 pieces.
Price Points: A versatile range of Euro 25 to 75 is maintained, influenced by the bag's dimensions, leather choice, and design intricacy.
Tailored Creations: Bellini extends its expertise to fabricate private label handbags and bespoke designs.
2. Florence Leather Market: Where Versatility Meets Craftsmanship
A true ode to leather mastery, the Florence Leather Market crafts an array of leather creations, from chic handbags and robust backpacks to elegant shoulder bags.
Diverse Offerings: Catering to personal users, wholesalers, and dropshipping ventures alike.
Pricing and MOQ: Resellers are greeted with a base order price of $410. For private label enthusiasts, the MOQ typically stands at $410 with a stipulation of at least 5 units per color. However, customization intricacies can alter these figures.
Novel Creations: In the pursuit of fashioning a novel leather bag? The MOQ is set at 100 pieces, with a per-color count of 10.
3. Niccoli Bags: Florence's Emblem of Elegance
Niccoli Bags, another gem from Florence, primarily curates women's bags, wallets, travel bags, and other leather treasures.
Service Offerings: They adeptly handle OEM requests, ensuring each creation mirrors brand essence.
Order Details: A general MOQ of 100 pieces is established. Sampling options are available, with a lead time averaging between 3 to 4 weeks.
4. Fior di Loto: Italy's Wholesale Leather Virtuoso
Operating from Firenze, Fior di Loto stands tall as a beacon for wholesale leather products. Their vast collection encompasses myriad leather handbag styles and wallets.
Order Particulars: A modest MOQ of 2 pieces per color ensures brands of all sizes can collaborate.
Customization: For a personal touch, logos can be gracefully integrated into their bags.
Platform Access: To uncover detailed pricing and further insights, a quick login is required on their platform.
India's Elite Handbag Makers: An Exploration of Top 4 Manufacturers
---
1. True Trident Leather: Delhi's Leather Virtuoso
When the capital city of Delhi is mentioned in fashion circles, True Trident Leather often surfaces as a key player.
Product Portfolio: This leather maestro crafts an extensive range of leather items, including but not limited to shoulder bags, duffel bags, tote bags, and wallets.
Customization: True Trident is renowned for its adaptability, offering tailored leather bags that align with individual designs.
Private Labeling: For brands aiming to carve their identity, private label handbags are also within their purview.
2. Hari Om Leather: Mumbai's Leather Beacon
From the bustling streets of Mumbai emanates the craftsmanship of Hari Om Leather.
Varied Offerings: Their production line boasts an eclectic mix of leather products like lady purses, men's wallets, luggage bags, and more.
Signature Handbags: Wallets, shoulder bags, and lady purses remain their flagship offerings in the handbag segment.
Bulk Orders: Typically, a minimum order quantity (MOQ) of 200 pieces is set for their bags.
3. Nath Brothers: A Symphony of Fabric and Craftsmanship
With accolades like SEDEX, BSCI, and GOTS CERTIFIED under their belt, Nath Brothers have cemented their reputation in the manufacturing arena.
Diverse Creations: Beyond handbags, their expertise extends to garments and a plethora of fabrics.
Bag Specialties: Their bag catalog is highlighted by leather and canvas handbags, with a niche expertise in embroidered bags.
Tailored to You: Clients can dictate the fabric and hue of the handbags, ensuring a product that's aligned with their vision and financial plan.
4. Deeya Bags: West Bengal's Craftsmanship Gem
Located in the heart of West Bengal, Deeya Bags has captured international attention with their superior quality products.
Material Mastery: Deeya Bags' artisans work wonders with leather, canvas, and nylon to produce handbags and leather wallets.
Global Presence: Their market footprint is evident across Europe, the USA, and Australia, underscoring their global appeal.
Engage Directly: While specific details about MOQ or customization remain under wraps on their digital platforms, one can engage directly with them for a deeper understanding.
Vietnam's Vanguard in Handbag Manufacturing: A Deep Dive into Top 4 Producers
---
1. Senda Vietnam: Bridging Traditions and Modernity
Nestled in the heart of Nam Dinh Province, Senda Vietnam stands tall as an exemplar of premium handbag production.
Two-Pronged Presence: With roots in Vietnam and another establishment in Guangzhou, China, Senda showcases versatility in operations.
Product Specialties: Their forte lies in crafting bespoke tote handbags and backpacks tailored to clients' desires.
Production Specifics: Catering primarily to bulk orders, they maintain an MOQ ranging between 5,000 to 10,000 pieces, coupled with a 45 to 60-day lead-time.
Tailored Services: Their capabilities extend to OEM/ODM services, attesting to their flexibility.
2. Minh Ha Limited Company: Hanoi's Cotton Connoisseur
In the buzzing streets of Hanoi, Minh Ha Limited Company emerges as the beacon for cotton bag enthusiasts.
Cotton Creations: They are adept at producing cotton tote handbags and drawstring backpacks, melding quality with durability.
Ordering Details: A standard MOQ of 1,000 pieces per color per style is observed. They also tantalize potential clients with spot samples, free of charge, barring the shipping costs.
Design Brilliance: Leveraging their in-house talent, they also proffer design services to curate products in line with brand aesthetics.
3. Ecobags: The Canvas Craftsmen
Ecobags, with its twin manufacturing hubs in Vietnam, has captivated a global clientele with its canvas masterpieces.
Diverse Audience: Their crafted products grace the shelves of retailers in Europe, the USA, Japan, Korea, and beyond.
Canvas Chronicles: Specializing in canvas handbags and backpacks, they've carved a niche in the marketplace.
Adaptability in Orders: The MOQ is contingent on product types, oscillating between a modest 100 to a more substantial 500 pieces.
Personalized Touch: Ecobags also brings customization to the fore, enabling tweaks in design, hue shifts, and even intricate printing.
4. Mizuno Bag Co. LTD.: The Global Bag Baron
Straddling between Nagoya, Ho Chi Minh City, and Tokyo, Mizuno Bag Co. LTD. is a global titan in the handbag industry.
Diverse Operations: Their presence in multiple cities signifies their expansive operations and global reach.
Core Expertise: Primarily, they engage in producing and wholesaling tailor-made bags aligned with brand directives.
Engage for More: While they remain reticent about explicit product details on public platforms, direct outreach can unveil a plethora of insights.