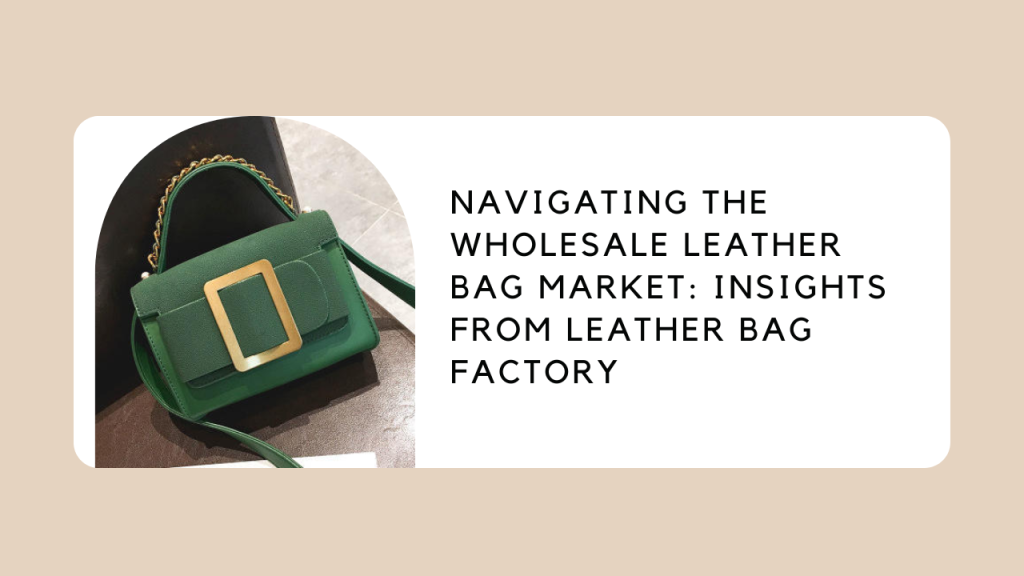 Introduction
Are you a bag retailer or business owner looking to expand your product offerings with high-quality leather bags? The wholesale leather bag market presents a world of opportunities, but it can also be complex to navigate. In this article, Leather Bag Factory shares valuable insights to guide you through the wholesale journey and help you make informed decisions that benefit your business.
Understanding Your Customer Base
The first step in sourcing wholesale leather bags is understanding your customer base. Are they looking for classic styles, trendy designs, or a mix of both? Knowing your customers' preferences will guide you in selecting the right bag styles from Leather Bag Factory's diverse collection.
Quality is Key
When offering leather bags to your customers, quality is non-negotiable. Leather Bag Factory's reputation for impeccable craftsmanship ensures that you're delivering products that meet the highest standards. Our commitment to using premium materials and sustainable practices guarantees the quality that discerning customers demand.
Matching Trends and Timelessness
The fashion world is ever-evolving, but timeless styles always hold their charm. Leather Bag Factory offers a range of designs that strike a balance between trendy and timeless. This variety allows you to cater to different customer preferences and stay relevant in the market.
Customization for Brand Identity
Building your brand identity is essential for retail success. Leather Bag Factory offers customization options, allowing you to add your brand's logo or unique elements to our bags. This customization enhances brand recognition and sets your offerings apart.
Pricing Strategy
Developing a pricing strategy that balances quality and affordability is crucial. Leather Bag Factory's competitive pricing ensures that you can maintain healthy profit margins while offering your customers value for their money.
Relationship and Communication
A strong partnership with your wholesale supplier is built on effective communication. Leather Bag Factory values transparent and open communication, ensuring that you're well-informed about product availability, lead times, and any customizations you may require.
Consistency in Supply
Consistency in supply is vital for your retail operations. Leather Bag Factory maintains a reliable supply chain, ensuring that you receive your orders on time and can consistently meet your customers' demands.
Conclusion
Sourcing wholesale leather bags from Leather Bag Factory opens doors to a world of quality, variety, and customization. By understanding your customers, focusing on quality, and aligning with a reputable supplier, you can navigate the wholesale leather bag market confidently and provide your customers with products they'll love.
Explore the possibilities of partnering with Leather Bag Factory at leatherbagfactory.com. Contact us today, and let us support you in enhancing your retail business with our exquisite leather bags.