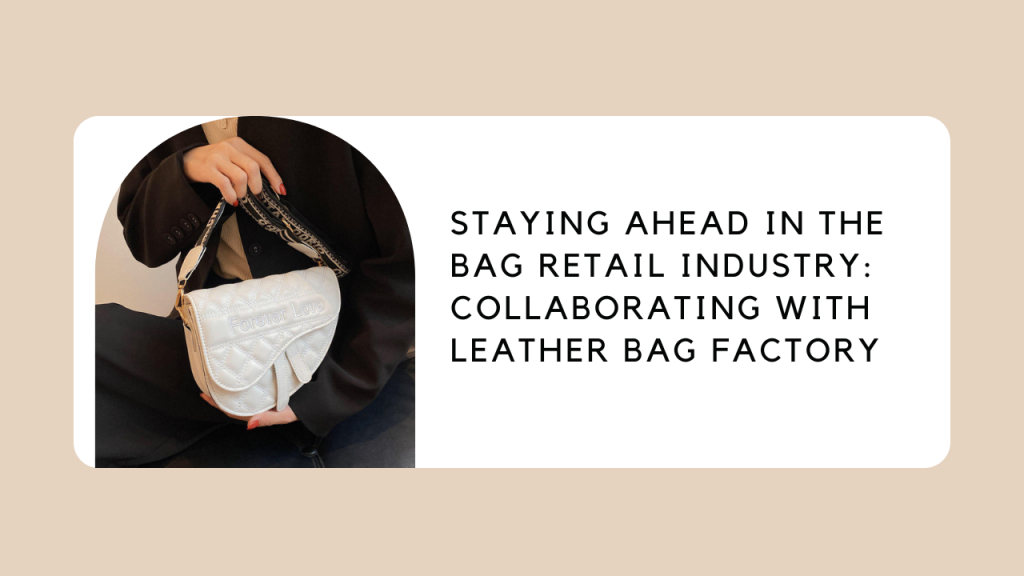 Introduction
In the competitive world of bag retail, partnering with the right suppliers can make all the difference. If you're a bag retailer aiming to offer top-quality products that stand out in the market, Leather Bag Factory is here to be your strategic collaborator. In this article, we'll delve into how partnering with us can help you stay ahead in the bag retail industry.
Exceptional Craftsmanship that Speaks Volumes
Your customers deserve the best, and Leather Bag Factory is synonymous with exceptional craftsmanship. Our skilled artisans pour their expertise into every bag, ensuring that each piece is a testament to our dedication to quality. Partnering with us means you can offer your customers products that reflect the highest standards of craftsmanship.
Diverse Range of Styles to Suit Every Taste
The bag market is diverse, and customer preferences vary widely. Leather Bag Factory offers a comprehensive range of styles, from classic to contemporary, catering to different tastes. Whether your customers are looking for elegance, utility, or a blend of both, our collection has it covered.
Personalized Branding and Identity
Your brand identity is crucial for success. Leather Bag Factory offers customization options that allow you to add your branding elements to our bags. This personalized touch not only enhances your brand's visibility but also establishes a strong connection with your customers.
Ethical and Sustainable Values
In a world that values ethics and sustainability, partnering with Leather Bag Factory showcases your commitment to responsible sourcing and production. Our eco-friendly practices and fair labor standards align with the values of conscious consumers, giving your business a competitive edge.
Cost-Effective Solutions for Profitability
The financial aspect of retail is essential. Leather Bag Factory's competitive pricing ensures that you can offer premium leather bags to your customers without compromising on profitability. Our pricing strategy is designed to help you achieve a balance between quality and affordability.
Reliable Partnership for Consistency
Consistency is key in the retail industry. Leather Bag Factory offers a reliable partnership, ensuring that you receive your orders on time and can maintain a steady supply of products for your customers. Our commitment to transparency and open communication strengthens this partnership.
Staying Informed with Industry Trends
The bag industry is ever-evolving, and staying informed about trends is crucial. Leather Bag Factory's dedication to innovation means that we're continuously updating our collection to align with the latest trends, ensuring that you always have access to fresh and sought-after designs.
Conclusion
Partnering with Leather Bag Factory is a strategic move that empowers you to excel in the competitive bag retail industry. From exceptional craftsmanship to customization, ethical values to profitability, our collaboration is designed to elevate your brand and delight your customers with top-quality leather bags.
Discover the advantages of collaborating with Leather Bag Factory at leatherbagfactory.com. Contact us today to explore how we can contribute to your success in the bag retail world.